THE OLD COOTS: Tom
I thought it was time for an update on the next installment of The Old Coots trilogy, an offshoot of THE WHITE OAKS SERIES.
Tom is coming along really well. I'm very excited about the history I'm learning and hope, through a great story, will pass that history on to my readers. As Tom has developed, I've realized his life, although far away from his friend Sam, mirrors Sam's in many ways. I should say, the RESULTS mirror each another, but how they get there are two, very different roads.
I've been in contact with a man named Thomas Downes who is assisting me with my research on the 8th Ohio Volunteer Infanty, the brigade my Tom enlists with. Mr. Downes steered me to a book called THE VALIANT HOURS, by Thomas Galwey, which has been an extremely valuable resource in following the 8th.
I'm a little more than halfway through TOM, and am on track, so I should have a new book for you in June, as promised. Hope you're looking forward to it as much as I am!
See you in June!
SAM IS AVAILABLE @ Amazon.com!
THE OLD COOTS: Sam is available at Amazon.com in both hard copies and ebook form. Sam's gone from Tennessee as a young man to Missouri, has fought at the Battle of Pea Ridge, had several encounters with raiders from both sides of the border, and made his way back to Tennessee where he'll join up with the 14th Tennessee Volunteers andfight at Gettysburg. Why did I take him back to Tennessee and have him end of up at Gettysburg? Sometimes I have no choice. I set up Sam's backstory in MAGGIE several years ago, with no intention of doing a book on Sam OR Tom, but now I've headed down that road and have to follow true to my path. It's always an interesting path, though. So look for THE OLD COOTS: Sam at all my events which you can find at my EVENTS page by simply clicking the tab.
I have a special thanks for Brian Payne of the 14th Tennessee Volunteers who helped me a great deal with getting Sam from Clarksville to Guiney's Station to enlist with the 14th Tennessee so he could fight at Gettysburg, as well as other places the 14th fought.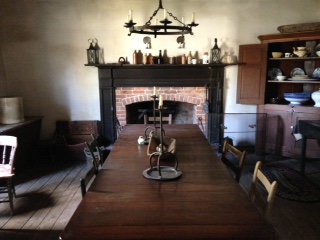 Dining area of the tavern at Missouri Town 1855 where I had an awesome event (despite colder than expected temperatures on Sunday). I met lots of "old" readers and lots of "new" ones. Most of whom actually knew their history, so we talked a lot of that!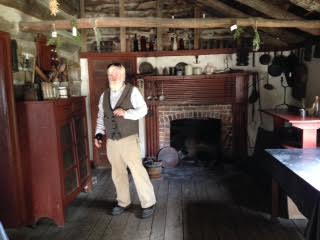 Jay, my personal guide through some of the buildings at Missouri Town 1855 on Sunday morning before opening.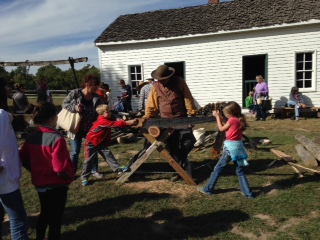 Kids interacting with the re-enactors at Missouri Town 1855 sawin' some logs!
Reviews for SAM:
DL Rogers has done an outstanding job of taking us into the heart of the South during the Civil War era and right into the misery inflicted upon peoples both North and South by its years of conflict; conflict between states, between family and between friends. Ms. Rogers follows the life of Mr. Sam Whitmore, his family, his marriage to Ellie, his children and his relationship with former slaves, Horace and Jefferson. Sam's initial struggle was with his conscience in that he could not support the idea of slavery and wanted to separate himself from it and from those who supported it. He meets Ellie who embraces Sam's desire to break from the traditional role of plantation owner and work his own land right alongside Horace and Jefferson, who Sam freed. As the war broke out, Sam was forced into the conflict in every way possible. Sam suffered unspeakable tragedies, loss of family and friends, loss of his home, but the thing that keeps you drawn to this book is how Sam overcame the physical and emotional conflicts as a Southerner drawn into a war he does not support. Sam's sole desire was to protect his family, his friends and his home. Sam's integrity and his humanity shine through in every chapter. Sam travels from Tennessee to Missouri, back to Tennessee then on to Virginia and into the heart of the war. Sam joins forces with a number of colorful characters as they embark on a perilous journey both to dodge Northern forces and conscription by Southern forces on their way to join the 14th Tennessee Volunteers to fight for the South under General Lee. To avoid giving too much away, you will be drawn into this book and Sam's life from the first to the last page. An excellent read!
Shirley Parsons

MY FIRST REVIEW FOR THE OLD COOTS: Sam! I clapped and cried at the same time.
My name is Brian Payne, and I've been a "War of Northern Aggression" reenactor for 16 years now as a Member of the 14th Tennessee Volunteer Infantry, as well as an artillery Battery commander with Parker's Virginia Battery. I am the administrator for both the 14th Tennessee and Parker's Battery Facebook pages. Several months ago, I was contacted on the 14th Tennessee's Facebook page by D.L. Rogers asking for information on the 14th . She explained that she was researching the 14th Tennessee Volunteer Infantry so as to include the Unit in a new book she was writing. I could tell from our initial FB conversation, as well as our telephone conversations that came later, that she was really committed to being as factual as possible in the chapters of her book that deals with the 14th. Over the years we (as 1 of only 2 reenactor groups in the country that portray the 14th Tennessee) have been asked for assistance with many projects, in both film and books, and we are always very careful about what we agree to be associated with due to our fierce loyalty and devotion to those men we honor, and how they will appear in these projects once they are completed. I felt from the very beginning of my association with Diane that she was absolutely committed to accurately portraying these men as they really were. I was honored to assist her throughout the process by giving advice and some historically accurate facts concerning the 14th from 1862 Winter camp, through the Battle of Gettysburg, and to a smaller extent, to the end of the War. After completing the book, she asked me to review it and give her my thoughts. She graciously sent me an autographed copy to read, and I must say, I had a real problem putting the book down once I started to read. The main character joins the 14th Tennessee in time to fight at the Battle of Gettysburg, and she does a terrific job in describing the destructive and deadly carnage that these men had to endure near that small Pennsylvania town in July of 1863. I must say not only did I enjoy the chapters covering Sam's experiences in the 14th, but I found the entire book captivating in the sense that the reader feels as though he/she is actually there experiencing all the things that Sam is going through. I am so glad she contacted me and asked for assistance in this project, and after seeing the finished product, I'm proud to be associated with it in a very small way. I highly recommend this book to anyone who has found true love during life's journey, still enjoys reading a book that is hard to put down once started, and would like to take a trip back to the 1860's to a simpler, and terrible, time in the history of this great country!
A new review for ELIZABETH'S WAR: Missouri 1863 (Oct. 14, 2015):
Elizabeth's War, while a work of fiction, it is based on the true life events just before and during the Civil War. All of us have much to learn about the lives and struggles of our relatives in this not too distant past, whether Union or Confederate. Elizabeth's War tracks the trials of a Southern family, the Miers, who had migrated to Missouri to settle into a peaceful family life apart from slavery during the mid 1800's. It recounts the devastation visited on families by Brigadier General Ewing's General Order No. 11, which expelled all those living in Cass, Jackson and Bates counties in Missouri unless they took an oath of loyalty to the Union regardless of their views on slavery or their general desire not to become involved with the war itself. Even if they took the oath, they were expelled from their lands and homes. All lands and useful property were confiscated and what could not be used or plundered was utterly destroyed. The book is a tale of hardship and loss, but ultimately of the endurance and perseverance of the human spirit, families who had been stripped of everything they had. When you think things could not possible be worse as the families traveled south to escape Union soldiers, Bushwhackers, Redlegs, Kansas Jayhawkers, the Missouri Guard and Militia and others, you discover that no matter how little you think you are left with, there is always one more thing that can be stripped from you. That is unless you take into consideration the grit, the will, the determination to survive no matter what, the strength of faith, love and the hope that survives all. This book is compelling from the beginning to the end and imagine my surprise when I discovered a distant relative in the very last chapter.
Shirley Parsons
Check out this link for my interview with Frank Haight of the Independence Examiner:
http://www.examiner.net/article/20150612/NEWS/150619651
A recent review for CALEB at Amazon:
Most Helpful Customer Reviews
Format: Kindle Edition
Verified Purchase
Very good read. The book is about a black man in the time period after the Civil War. I loved his character. He always tries to look deep into a person and uses that to deflect their antagonism towards him. This particular author has written several books about the Civil War era and others. She is a fairly new author and has improved with each book. I encourage anyone to check out her other books.
Check out my Amazon Author Page at: https://www.amazon.com/author/www.dlrogersbooks.com
Follow me on Facebook at www.facebook.com/dlrogersbooks, on Twitter at Diana L. Rogers @DianeDLRogers and five of my books are now at Goodreads (www.goodreads.com). Find them by searching for D.L. Rogers. So if you've read my books, stop by and give me a review for all the world to see! THANKS!
If you want a copy of my NEW Newsletter, email me at dlrogers2@peoplepc.com and I'll get you onto the mailing list.
Sam Whitmore hates slavery. Turning his back on his slave-holding family, he purchases a run-down tobacco plantation with the hope of someday making it a success. Freeing Horace and Jefferson, the slaves who came with what he now calls Summerset, they become Sam's new family...

Until the night he meets Ellie Baker and his life changes forever. Ellie believed what Sam believed and upon their marriage, she happily stays in Tennessee to help him make Summerset a success. The first few years Sam's dreams are realized, but soon after the weather deserts him, leaving a worthless property and a wife who wants only to return home with their two children—to Missouri.

The next ten years are prosperous, until the Missouri/Kansas border explodes in violence, a precursor of the coming Civil War.

From Missouri to Tennessee, Virginia, Gettysburg, and finally Appomattox, against all he believes, Sam fights for the southern cause—to soothe the burning need for revenge that burns in his belly—and costs him almost everything.

Read the complete first chapter here.